Some time back in November I guess, I picked up some frozen Blueberries and Raspberries to make Berry Ice-Cream from Celebrate issue of the Donna Hay magazine (just swirling frozen berries into softened ice-cream and then re-freezing in a pudding cloth).
Then the other day at work I picked up some sour cream from the reduced to clear section, having seen somewhere in the back of mind sour cream muffins.
A google search yesterday gave me these recipes Blueberry Cream Muffins, Sour Cream Blueberry Muffins and Blueberry Sour Cream Muffins, which I used for the basis of my recipe as well as drawing on a Baking Sheet blog post from the other week called Bakery Style Muffins.
Berry Sour Cream Patty Cakes

Ingredients
2 & 1/2 cups plain flour
2 tsp Baking Powder
2 tsp Baking Soda
pinch of salt
1/2 cup white sugar
1 egg
1/2 butter (melted)
dash of Vanilla essence
200ml sour cream
dollops of Milk and Buttermilk if needed for achieving consistency
2 cups or so of berries (I used Blueberries and Raspberries)

Method
Preheat oven to 160°C and place patty or muffin papers into patty pan or muffin pans. Combine dry ingredients in a bowl, in a separate bowl combine the egg, sour cream, vanilla and melted butter. Make a well in the dry ingredients bowl and pour in the sour cream mixture and mix together, if mixture is not wet enough add dollops of milk and or butter milk till it is gooey enough to spoon into patty pans. Stir in berries, be sure to do this well so that the berries are evenly distributed through the mixture. Spoon mixture into patty pans so that the mixture is just about at the top of the pan. Cook in oven for 15 minutes or so until skewer comes out clean (muffins will need longer to cook than patty cakes). Makes 40 patty cakes.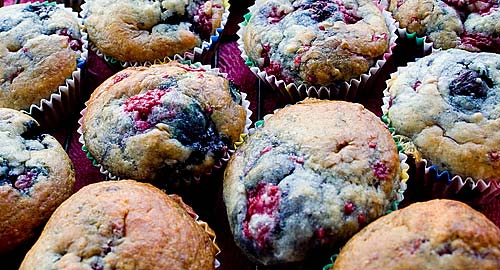 Now for some notes.
Since this recipe makes quite a few patty cakes be sure to either freeze them in small batches or store in the fridge to prevent mould growing in them (cakes etc with fruit especially berries are quite prone to mould if stored at room temp, so eat quick or store in the fridge/freezer.
These will be quite airy patty cakes due to the amount of baking powder and baking soda used if you don't like airy cakes, halve the baking powder and soda amounts.
Enjoy with a nice glass of milk 🙂
In other news:
On my hook at the moment is this Crochet

Cupcake Pincushion

.
I want one of these – Flame-worked All Glass Crochet Hooks in ruby or opal please (Mum, ideal 21st birthday gift, you have 232 days to purchase one).
Mum is just about finished her crocheted bag.
This arvo Mum and I went through her old wool to see what I could use to create with and found some knitted goodies which will be fun to felt.
Lastly, this coming Thursday, January 26th is Australia Day so Be Australian, Eat More Lamb (you have to click on that link, though if you aren't Australian you probably won't get half the stuff said but still click on it).