The hardest thing about this thing is coming up with a post title but by all means it was a modest day.
I want to thank you all for sweet comments, emails, IM's etc etc 🙂
I arrived home from an enchanting concert last night to find my birthday present from my parents spread over my bed – Paisley by Esprit along with a gorgeous card from a local gallery in the city – Gallery M. I had tried to talk Mum into changing my bed covers whilst I was sleeping but she was not that enthused 🙂 Matthew has ordered me an All-American Rejects shirt from Interpunk – Coy Fish < = how cute is it? I by no means was spoilt with lavish gifts wrapped with ribbon but since it was my birthday that I meant I got out of jobs round the house today - no washing up 🙂 Then this arvo I webcammed with Hayley (and Pete) - so much fun, she showed off the utterly cute baby stuff she had got today and I showed off my new sæng cover and pillow case. That girl is a barrel of laughs. Watched Strange Bedfellowson the TV tonight with Pabbi, Michael Caton is a crack up. Had the sweetest phone call from Toti, one of my bigger brothers wishing me Happy Birthday and in all the excitement of him ringing I forgot to ask how Anna and the kids were!
Since Matthew doesn't finish work till 6 on a Sunday night, it made it a bit hard to go out, so Mum made chocolate mousse for dessert 🙂 We plan on going out for Mexican tomorrow night 🙂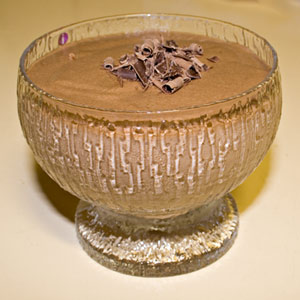 For the rest of the day I spent my time like I tend to on other events in life and I cleaned my room, this time my wardrobe and entry table as well as rewiring some connections in my computer and finished editing the photos I need to get printed from my Iceland trip.