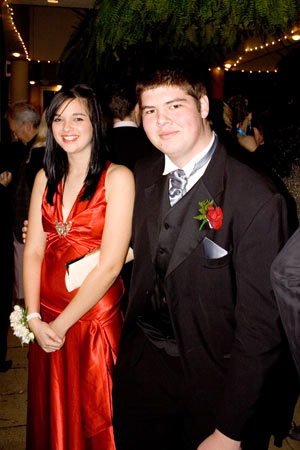 Friday night saw Sean's littlest brother, Peter attend his highschool formal at Snug Harbour. He went with a girl from work who as you can see in the picture was wearing the most devine red dress.
Formal dresses sure have changed a lot in the three years since I had my formal, my favourite dress however was a simple tea length, empire, strapless pink dress that was so utterly simple and sweet it was gorgeous. Karen and I had fun scooping out the dresses and commenting 🙂 After the pre drinks for the parents were over Sean, his parents and I headed out to dinner at local deli-cafe a yummy dinner where I had the most gorgeous chicken risotto.
Saturday, my best uni bud Sam turned 20, so Sean and I headed over to her place for a celebration, in which Sean was the only guy as Cory had piked on us, I demonstrated my uncanny ability to navigate my way through the waterfall cardmaze numerous times in a row (a fun game that involves cards laid face down in a 1-2-3-4-3-2-1 pattern, where the player has to go from one end to the other stopping on each level once and not landing on a face card, if a face card is landed on, new cards are delt over the failed route and the player has to take a drink). Sam donning her Super Sam costume that was given to her with a list of rules for what she must do on her birthday night out. A very nice cake with a Care Bear candle finished the night off.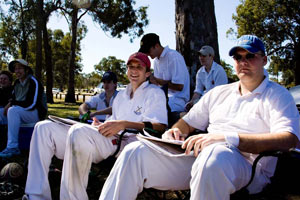 Sunday, saw the Giant Killers play The Cricket Team in the Warehouse C2 south cricket semi-final and I am extremely pleased to say that the Giant Killers won, beating a team that has been undefeated the entire season and has regulary walloped the oposing team very well. Sean may be providing his first cricket report on wednesday if the stats are up on the website.