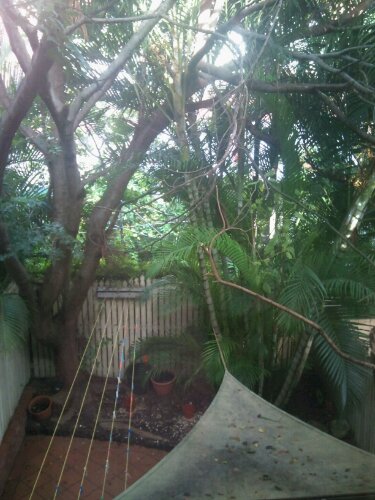 Contrary to public and possibly opinion, I've not yet disappeared off the edge of the earth.
I have however changed postcodes about just as quickly as I changed at the start of the year. I moved into a lovely quasi terrace house in Spring Hill on Sunday. Saw the ad on Friday, inspected on Saturday and then Bob is my great uncle I moved on Sunday.
I'm totally loving the 8 minute walk to work compared to the 40 to 50 mins it was taking to get to work in the morning. And oh so nice to get home quicker after uni. I'm living with a nice bunch of people which is of course good stuff.
One of the great things is that my room has 3m of wardrobes on one side of the room 🙂 🙂 🙂
The view from the window is in some ways quite urban but also a bit suburban with the trees etc.
Here is to Spring Hill.