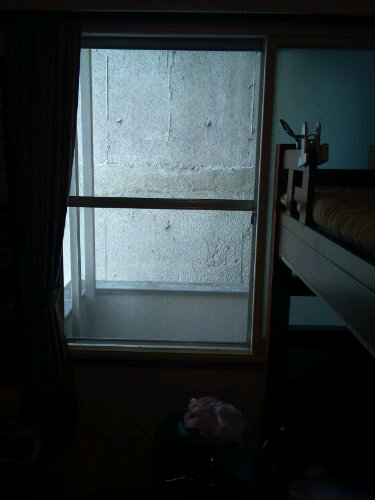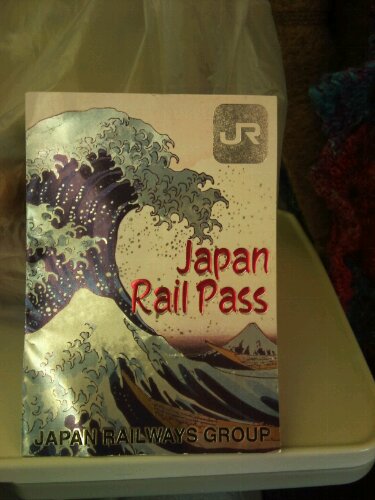 After getting back from Miyajima yesterday afternoon, we picked up our bags from the locker at the station and made our way to the hostel not before a stop to pick up some citrus Kit-Kats (mmm Kit-Kats).  After checking in and discovering that we have a real urban Japanese view from our room (see the picture), we rugged up and got the street car downtown. We walked the streets and wished our feet were 3-5cm shorter as we found shop after shop that sold all types of socks (thigh high, knee high, ankles and oh so many sockettes) as well as tights, stockings and leg warmers. There were so many pretty things.
Our stomachs continued to grumble but we were yet again slightly scared by the signs we were seeing and our lack of understanding of what on earth they said. We came across a grocery store and our stomachs were saved. The Japanese do prepackaged food very well. I picked up some rice paper rolls and Georgie got steamed salmon and broccolini type vegetable tempura (yum). We also picked up snacks for the train and green tea Kit-Kats. We meandered round some more and tried not to open our eyes too wide at the prices in the gourmet grocery store.
We had look in a book store and I picked up the Cath Kidston spring/summer 2010 e-mook (google book or e-mook – they take gifts with purchases to a whole new level).  Speaking of Cath Kidston I've seen more of her bags in 12 hours than I've seen in the last year in Brisbane – I fit right in with my Cath Kidston saddle bag.
As we left the covered market streets we walked into something amazing;  it was snowing! Just little flurries but enough to know it was snow. We then made our way back to the hostel. Where the real adventure of the night would begin. You see, during our downtown adventures something was playing on my mind. Where on earth had I put my railpass?  It was not in my daybag as I had discovered on the street car. Back at the hostel we went through my day bag, the paperwork folder, the top of my pack, Georgie's stuff, even pulled the room apart. At this point I'm starting to think a whole lot of explicit words that I'm not going to type. I thought I must have left it on the check-in counter but nope, nothing there and the lady was not all optimistic about JR replacing it even though I had it for less than a day. We headed up to the rail station and came to the police first and entered into a mix of English, Japanese and pointing to get what had happened across. A lost property form was filled out – I got to see my name written in Japanese and was given a reference number and told good luck.
Next we went to the JR ticket office and were told to go next door to the information office. We walked in and at this point I'm feeling terrible. We've got a million train rides to go and I've lost my pass and it would be a lot of money to buy all those individual tickets. At the information office we started the English and pointing about the pass and one of the officers asks where we are from, "Australia" we say and they go "ahh Australia" and one man goes into a little room and walks out with a rail pass. He then sits down at his computer and goes back to entering in other lost property with the rail pass sitting beside him. After a while he gets to the pass and prints off a sheet of paper and comes over to the counter. He then has a look at my passport and slowly opens the pass, we continue to grip the counter in the hope that it is my rail pass. He opens the pass and there it is my name!
Oh boy was I happy! I gave them hugs across the counter and then signed the piece of paper saying I had received it.
Oh happy day! I would now be able to sleep and as Georgie said to me as we were walking back to the hostel, she had no idea what to say to me to console me over my likely loss of my rail pass. She was however able to give me a hug and when we got back to the hostel we had a green tea Kit-Kat each and a mug of milky black tea.
It was quite a night.
My rail pass is now very safely tucked in its own little picketing the Cath Kidston hand bag organiser that I got in the book mentioned above.