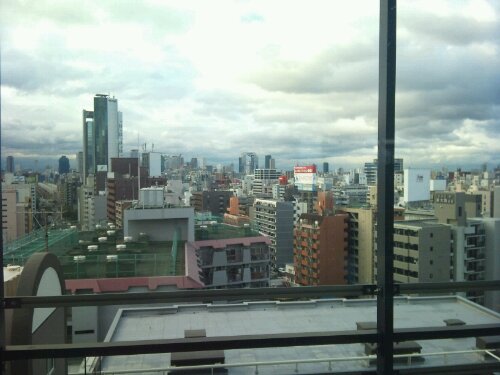 Well Georgie and I have survived the Jetstar flight from the Gold Coast to Osaka. We were really surprised with the quality of the plane, was expecting a more AirAsia like plane. Would fly JetStar international again for sure. After a few little confusions we made it Shin-Osaka YH, really nice hostel. Great views over the city and we had a 4-6 bed dorm to ourselves.
We decided to hedge our bets and have Indian for dinner – no language problems and I think the staff were grateful to have English speaking customers. It was a good meal. 1200 yen for rice, curry, crunchy salad, a massive naan, chai and mango ice cream. Wish we had Indian for that price back home!
We had a look in some corner stores and found some interesting goods – pringles with a little container of dipping sauce! Also found almond Kit-Kats are creme caramel Kit-Kats!  I remember when I first saw Japanese Kit-Kats on the Floating World Views blog, I knew that when I got to Japan I would be hunting down as many flavours as I could find.
We are currently on the Hikata bullet train on the way to Hiroshima.