So, I was browsing the blogs over at GetCrafty the other day and stumbled across a recipe for Cranberry Muffins and my first thought was I need to make these!
One problem though, I live in Australia which equals no fresh Cranberries that I have seen, with some internet searching, I find out that Creative Gourmet sells Frozen Cranberries, SCORE! After work yesterday, I popped into Coles (the only chain that sells them) and picked up a box and I made the gorgeous things this morning.
Cranberry Muffins
2 cups plain flour
1/2 cup white sugar
4 tsp baking powder
1/2 tsp salt
2 eggs
1/4 cup cooking oil
1/2 cup milk
1 cup cranberries–chop in food processor

Measure flour, sugar, baking powder and salt into large bowl. Stir thoroughly. Make a well in center. In a separate bowl, beat eggs until frothy. Mix in oil, milk and cranberries. Pour into well. Stir to moisten. Batter will be lumpy (may want to add a little more milk). Fill muffin tins 3/4 full. Bake in 400 degree F. (200C) oven for 20-25 minutes. Makes 24 muffins (I don't get that many!). Brush hot cooked muffin tops with melted butter. Sprinkle with granulated sugar.
Source – Knits4Fun's blog
I got 12 full size muffins and 8 tiny muffins. I made a few changes to the recipe and will make some more when I make them again. I used 1/4 Buttermilk and 1/4 cup milk instead of 1/2 cup milk, I also needed to add some more milk (1/4 cup ish) when I mixed them up. Half way through baking, I pushed a cranberry into the top of each muffin and once cooked, I simply glazed with milk instead of butter and sugar.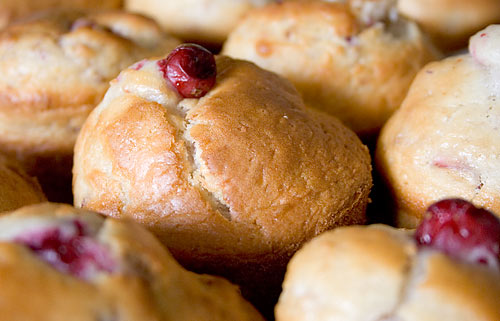 When I make them again, I plan to use wholemeal flour and add some rolled oats for extra barefoot appeal, I also plan to reduce the milk and add some cranberry juice for a bit of colour. Maybe I will go have another one now….