This morning, Pabbi, Mum and I made a trip down to the beach at Sandgate to watch the sunrise and enjoy a photography filled time. Mum and Pabbi were sharing the Fuji and I had my 350D (which needs a name, any ideas?) along with the tripod and a bunch of lenses, even though I only ended up using one lens. mmm. A fair few of the images I took have become header images for here, which you will notice change with each page load thanks to some cool php I picked up. I will post more photos as I go through them. And of course I had to take self-portraits of me in my new funky jumper.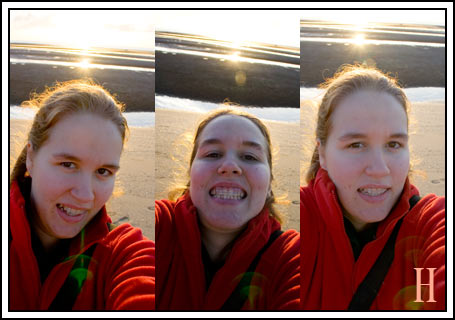 Then, this afternoon Mum, myself and Mary (a close friend of my late grandmother, who now fills in that role) went to see a private screening of The Wedding Date, ok so it wasn't a private screening, we just shared the with five other people. What a crack up of a movie, though it did have plenty of sad bits, Poor Kat, but in the end it all came together and how gorgeous was Debra Messing's hair in the movie?
Cricket tomorrow, hope the Giant Killers win this game, as it will be the last I see till after I return from Iceland.