The Easter long weekend normally means a trip somewhere, or kind of somewhere
last year it was a trip to the spare room as I prepped for a CA Capstone workshop the following weekend.
the year before it was ?????????
the year before that it was Penang
This year it was Hawaii with two of my friends from uni days Sam and Justin. We flew with Hawaiian Airlines because well 2 x 32kg bags ….vs 1 x 23kg with Jetstar.  Ok so that last bit was more something I was excited about than the others and that may only be because well I brought home some groceries … ok really I bought home a whole bunch of pop tarts, like a lot.
Hawaiian does a cracker of a flight out of Brisbane to Honolulu, a perfect flight for an after work escape on a plane to the middle of the Pacific. Why is it a cracker? Well because the departure time is 9:45pm. Thank you very much HA444. That not too late but not too early flight which means you can leave work at 5pm, go home finish packing, grab a bite to eat and make it to the airport in time. Â Ok so that dinner might only be a jaffle but still … and anyway you will get some sort of snack on the plane once it takes off. The flight takes about 9hrs so again a pretty perfect after work flight because you know that halfway through the first movie you will be fast asleep albeit not in pyjamas and not curled up in your own bed but still you know that when you wake up, you will be a whole lot closer to those islands in the middle of the Pacific, HAWAII!
….. Fast forward 9 hours and some somewhat not the nicest plane food … Cue a little bit of food poisoning for me… Aside from that. This is what you see when the wheels hit the tarmac and how can you not love those mountains? That glorious haze/volcanic fog creating the perfect graduation of colours 😀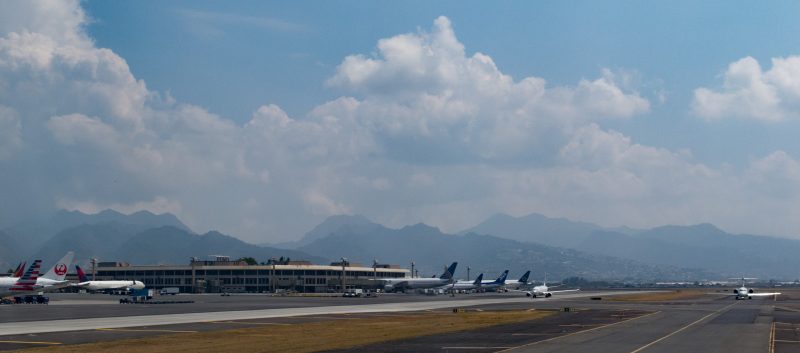 Once I had my bags and the passport stamped it was out into the real world. Shuttle found, I was of course going to be the last person to be dropped off at my hotel. We went via some of the fancy ones, some of the middle ones and then we get to mine and the driver is like  mmmmm.
I had two nights in Honolulu before  Sam and Justin to arrive  (perfect for me to relax and recover from that food poisoning) and had booked myself in to this little place – The Holiday Surf. Ok so I may have ended up picking this place because of the Whale mural painted on the front of the building and hey my room certainly did not disappoint in the mural department because my ceiling looked a bit like this.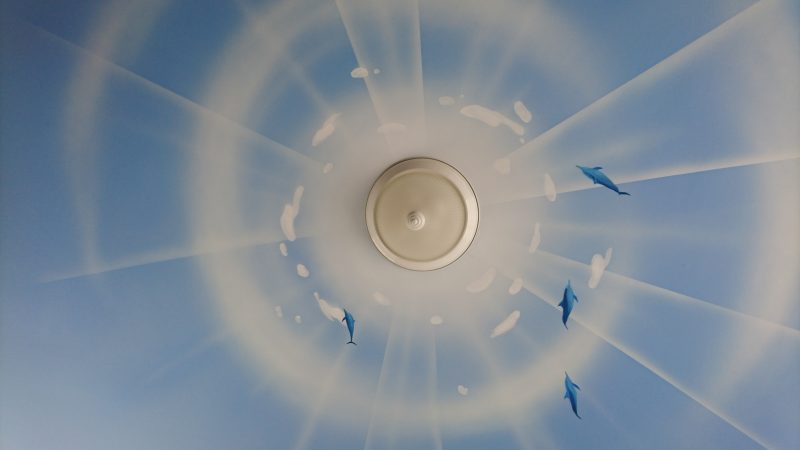 But hey, I did have a view up the mountains from my balcony.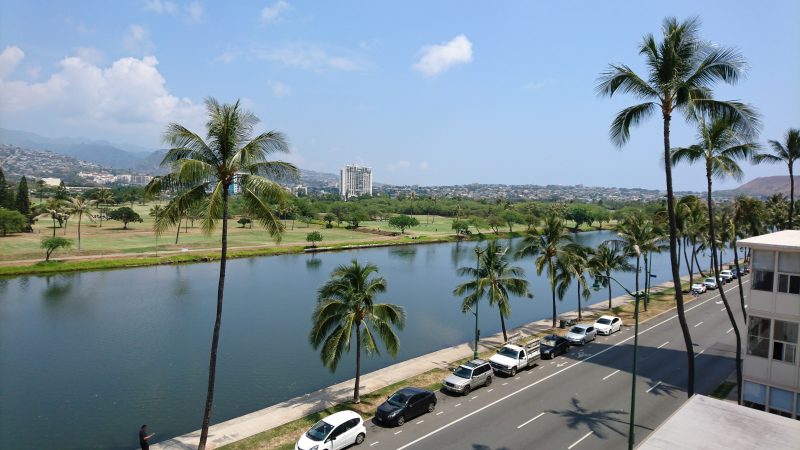 In saying that, double glazed windows or some form of soundproofing would have been  nice because well that road in that photo? Well that is one of the main drags in Waikiki and well the traffic does not really stop ….
After enjoying the view from the balcony it was time to sleep/recover/watch C-Span.
Then it was time to explore and explore I did.
And these are some of the things that I found 🙂
Jamba Juice! So many OC memories 🙂 and actually I have to say that I like their drinks better than Boost, they didn't taste anywhere near as sweet.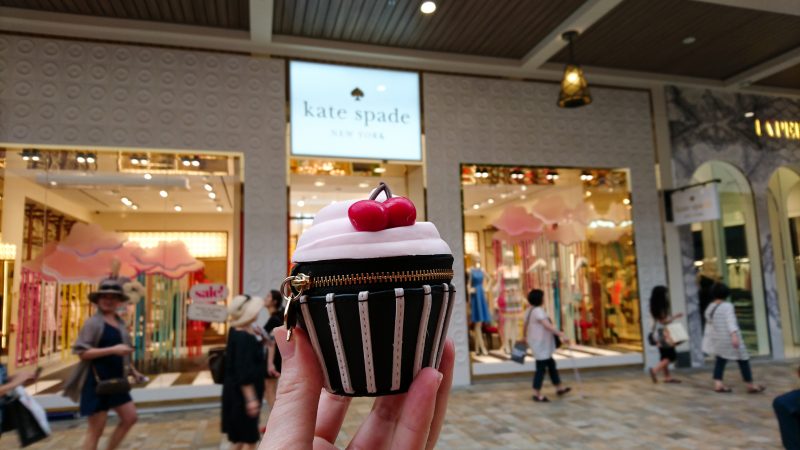 Oh look! A Kate Spade store! The Kate Spade Cupcake sure did like that 🙂 I wonder what we might find inside???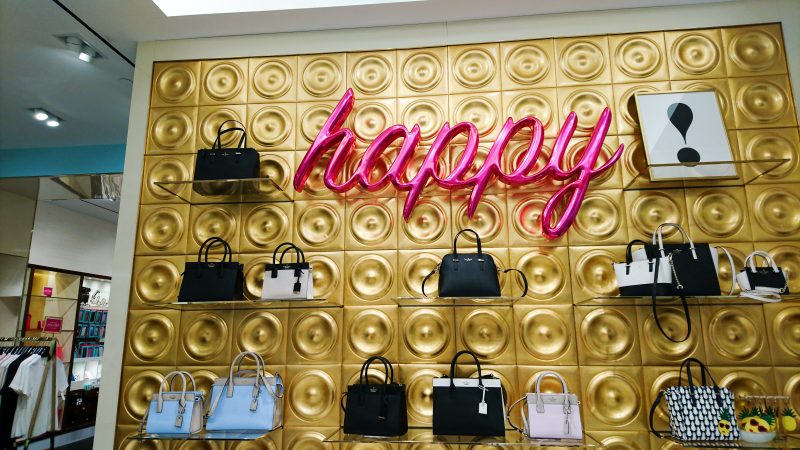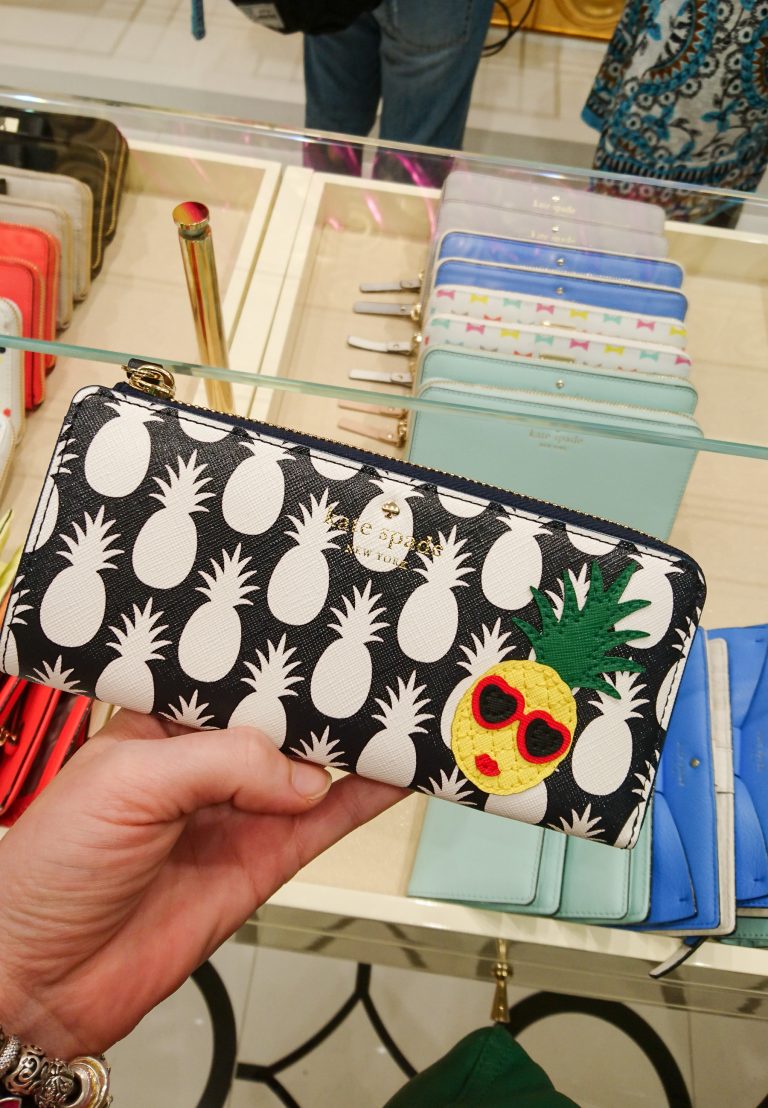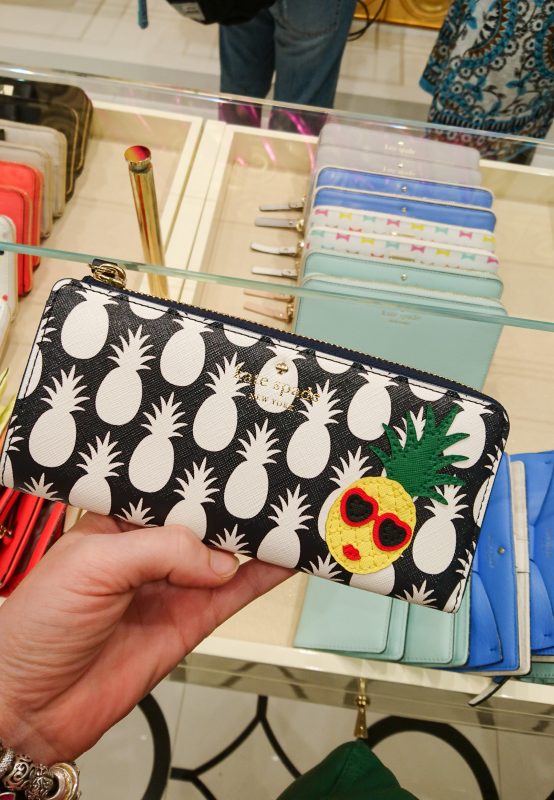 Kate Spade and many other retailers release Hawaii exclusive products, mainly to cater to the Asian tourist market but hey this Aussie was not complaining because Pineapples!!!!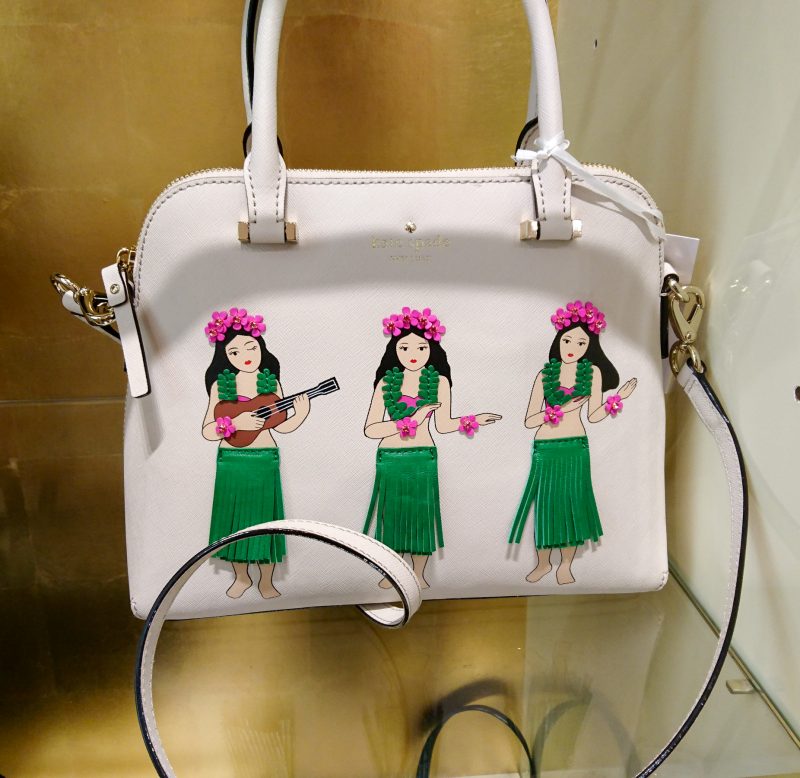 Or Hula dancers on a Maise bag?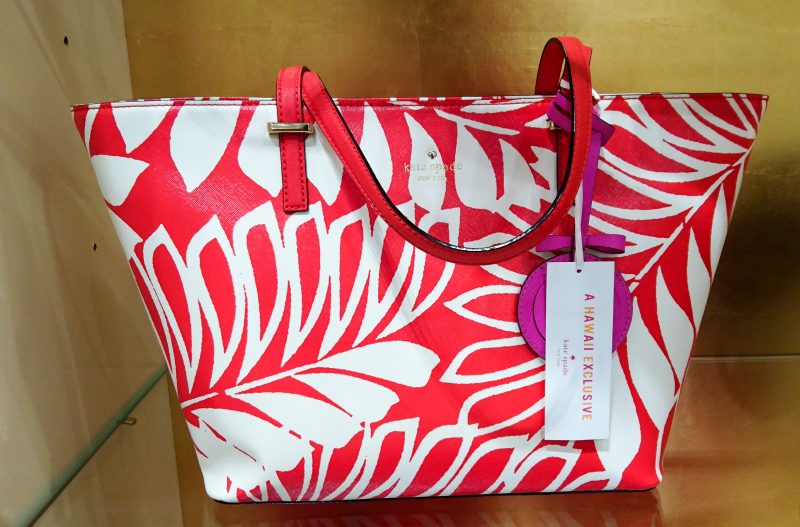 Or what is this????? Red, white, tropical leaf print Harmony bag???? and it is on sale??? and this is the same style bag as my black work hand bag …. Well I think it is safe to say that this bag came home to Australia with me isn't it???? As we were heading over to the Big Island once Sam and Justin arrive, the shop girls very kindly stored the bag for at the shop and I picked it up when we returned to Oahu 🙂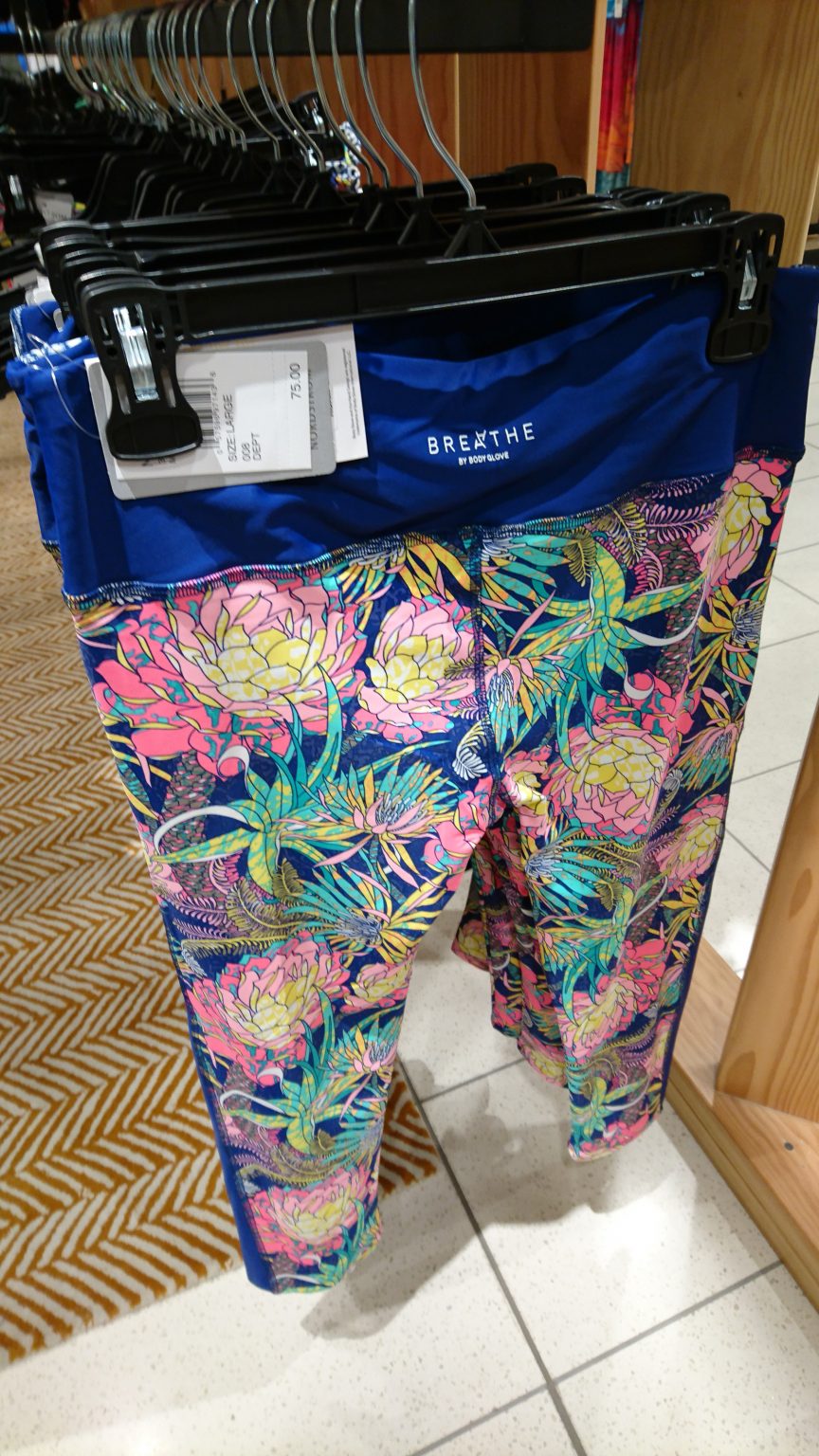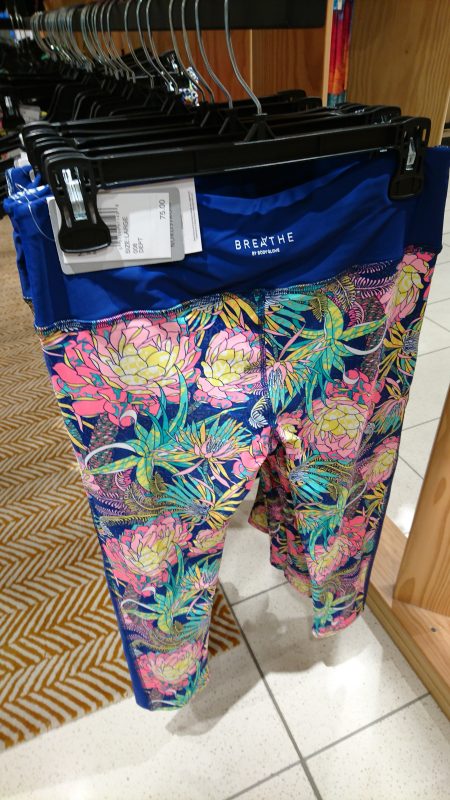 How gorgeous are these tights from Breathe by Body Glove??? If I had not just spent $$ on a handbag, was flat out tired and really didn't feel like trying on clothes, these would have been tried on and probably taken home with me 🙂
After a decent while walking through the Ala Moana Center it was time to start walking back to my ceiling mural and C-SPAN but first 🙂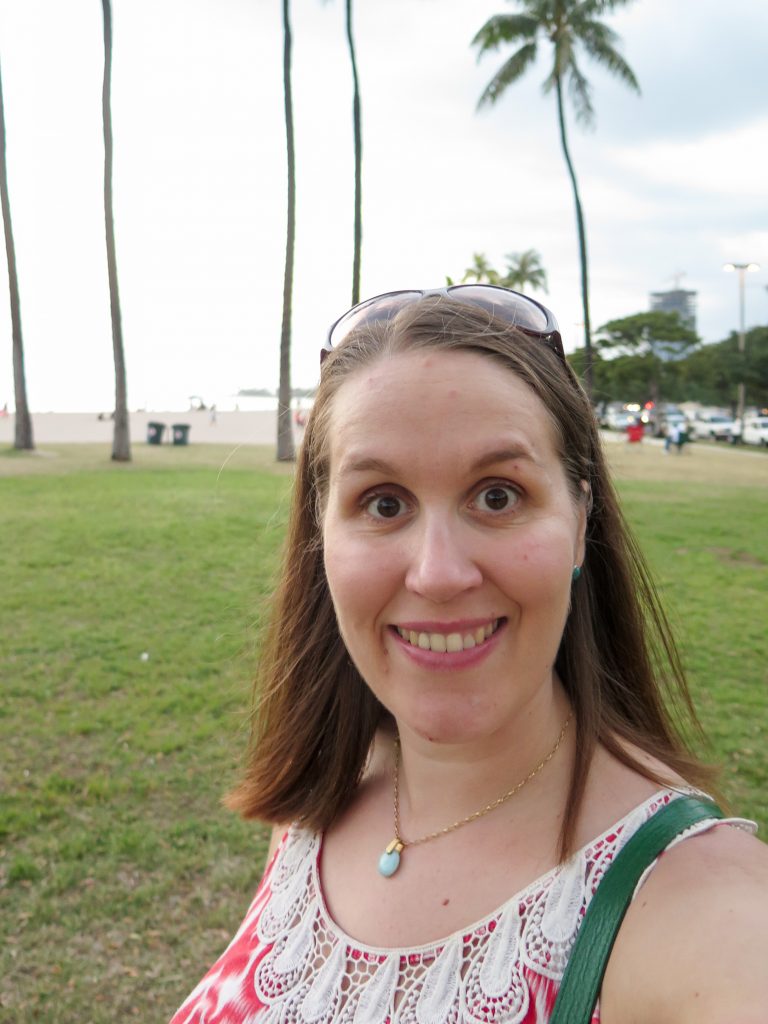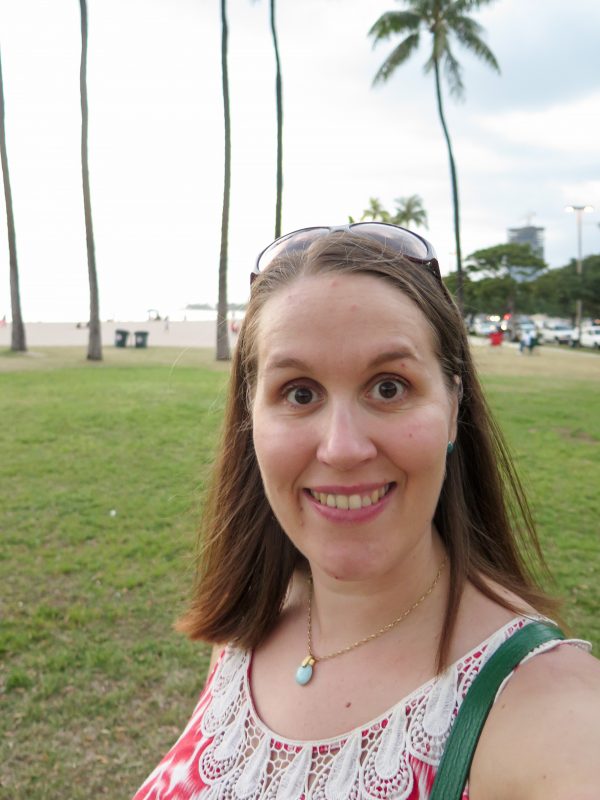 Oh look a selfie!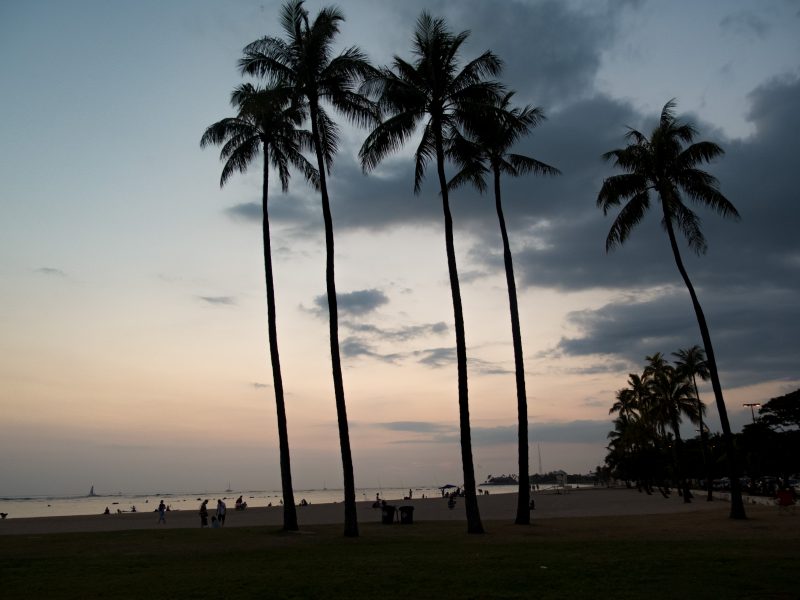 Palm trees! Beach! People! Sunset! But wait for it ….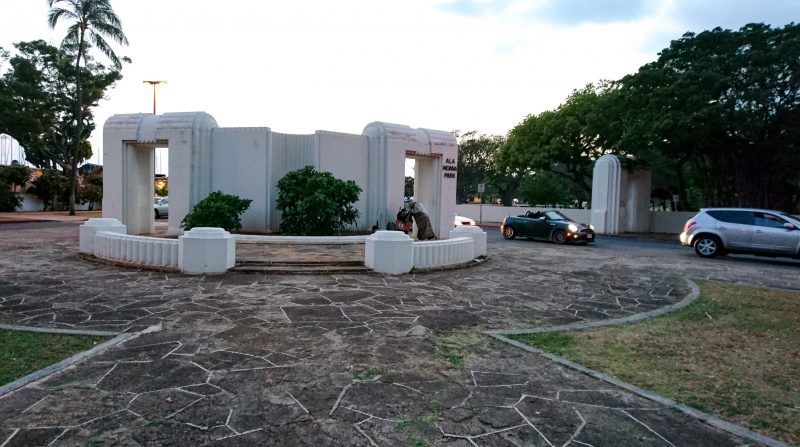 A very nice Art Deco entrance portal into the Ala Moana Beach Park. These entrance portals along with the canal bridges and pavilions were designed by Harry Sims Bent who was the park architect for the City and County of Honolulu in the mid 1930's. You can read more about the park in this very interesting scan of a book – Ala Moana The People's Park
But what is this?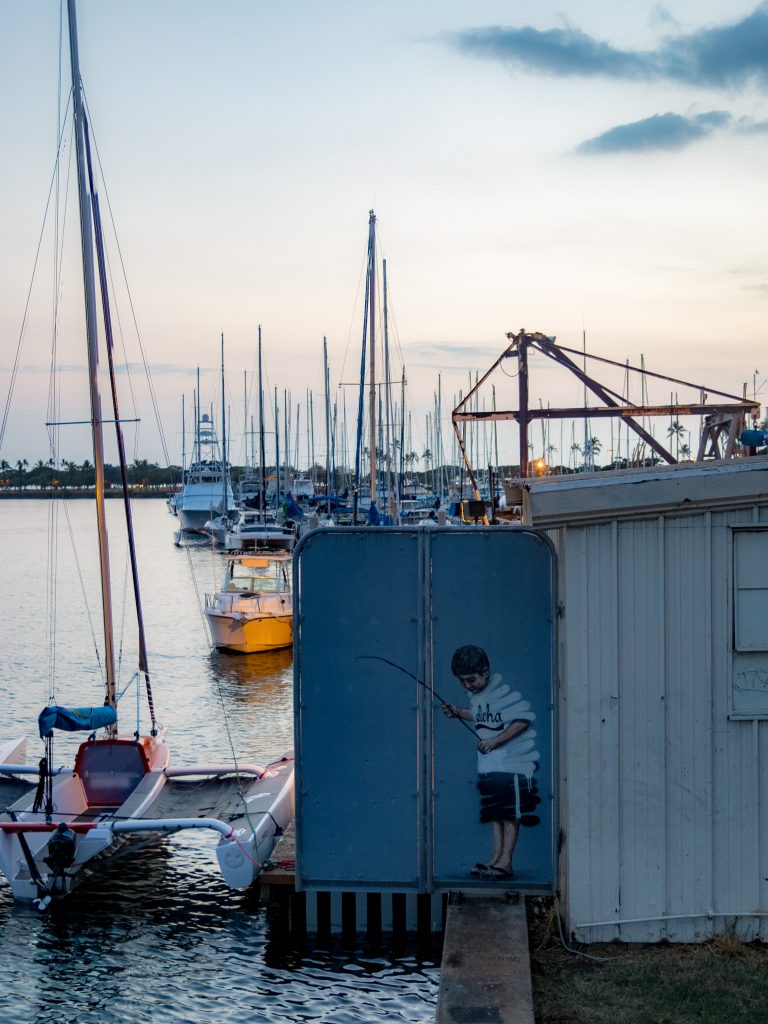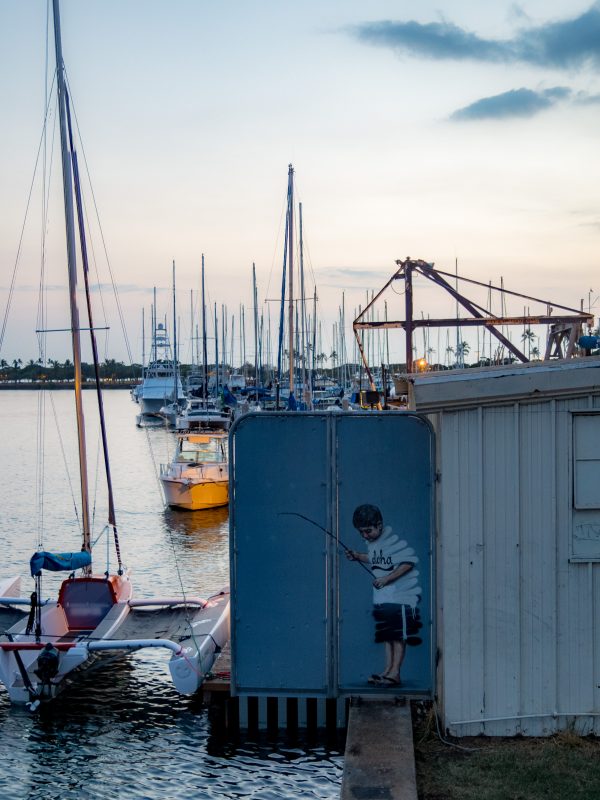 This girl who has hung about in Penang can spot an Ernest Zacharevic piece of street art from a distance 🙂 This piece was painted as part of Pow! Wow! 2015
and for a little photo that really summed up how I was feeling about  Hawaii after less than 12 hours was this installation in the Kate Spade concession in Bloomingdales.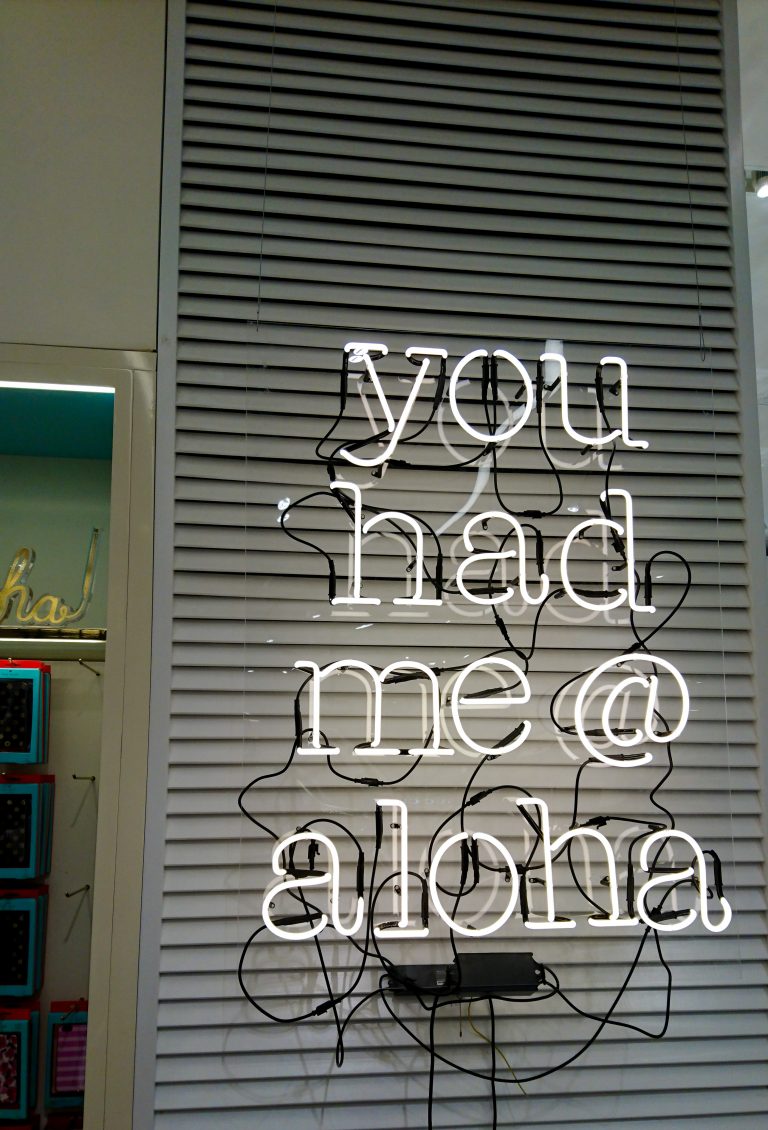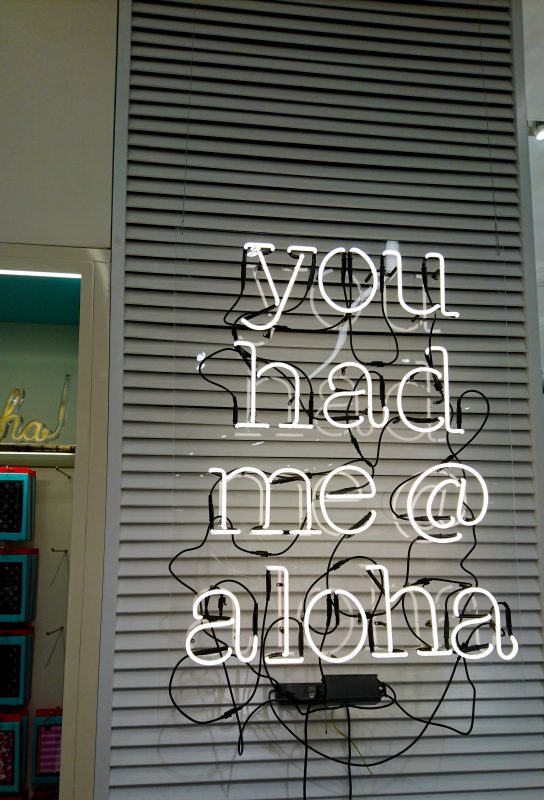 Yep, you sure did have me at aloha 😀