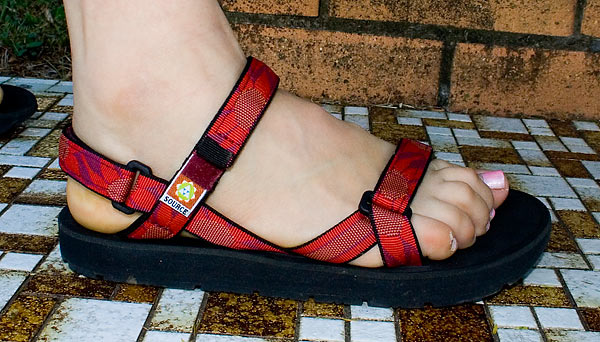 The other day I picked up a pair of Source Stream sandals and they are just pure bliss, I have a hard time with shoes from wearing a 9.5 but mostly finding shoes that are always comfortable and can wear all day. Well these certainly fit the criteria and they are so funky as well – the images on the straps are sunflowers 🙂
I have been after some new work pants for a while now but finding good work pants is hard as well. Pants need to be loose fitting, breathable, big pockets etc so that I can actually fill the shelves instead of standing like a bean post, well I found a pair in the most unlikely shop. I was in Mountain Designs and saw some travel pants, which fitted all the criteria – black, loose, pockets, breathable. Score! What makes them even better is that they are a 55% Hemp/45% PET blend, dude my pants are a bong! (yeah I know that the hemp they grow for fabric is different to the pot kind but still), the best bit? They were reduced from $90 to $40, score!
How cute is this little cake stand from Mikasa? It is 5.75″ wide and 4″ high, perfect for taking photos of a single slice of cake or some biscuits 🙂
Two more purchases, as my family and friends know, I have a very good relationship with Christmas Ornaments, we go together like Vegemite and cheese or milk and milo, so when I saw these in the Vileroy & Boch store at DFO, nothing was going to stop me taking them home with me. They are from the Scandinavian Christmas 2004 series, which was the second year in V&B's Christmas round the world annual collection, Russia was 2003 and America was 2005.

This is a bag I made for a friend who loves cats and is quite fluent in Japanese, so what better than a bag based on a pattern in a Japanese craft book and Japanese quilting fabric? Idea for the bag is from this book (the middle one on the front cover) – ISBN4529040011. Crafting Japanese entry for the book.

I love Pandani! They were such cool plants to play with whilst in Tasmania, the way the leaves formed corkscrews was just so cool, so here is a layout I did on them earlier today 🙂
Well that is for the moment, I was in the middle of making a bag but I ran out of thread 🙁 so now I am playing in photoshop and chilling out to the crazy/beautiful soundtrack.