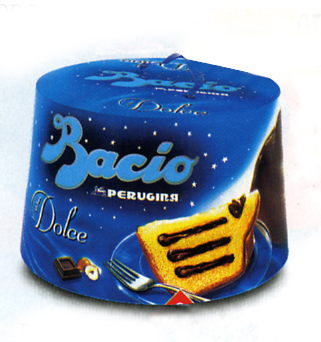 For the last two, perhaps three Christmases, Matthew and I have looked curiously at the various Italian Christmas cakes that appear in the stores where we work early each November. This year instead of talking about getting one, we did on the post Christmas sales of course 🙂 which made the price a lot more attractive. The cake we picked up was a Dolce Bacio Panettone, that is described as
(the) Most famous Italian chocolate is transformed into a panettone (traditional Italian Christmas cake). This is the origin of big Dolce Bacio (Sweet kiss). Soft cake filled with chocolate and hazelnut cream in the shape of a chocolate. This panettone is a nice present to be eaten in company of friends, family or colleagues. A sweet present to be made to everyone who deserves a kiss. Source – ItalianfoodsHQ.

However imagine our response when we had each had a slice of cake each and both didn't think it tasted that nice. We still had 2/3 of a cake left and we were going to get our monies worth, so we brainstormed and I came up with this idea to make it a lot more palatable.

Step 1 – Line spring form cake pan with baking paper.
Step 2 – Crumble cake and using roughly half form a base.
Step 3 – Press cake down well to create a well formed base.
Step 4 – Spoon thin layers of ice-cream onto cake layer, not worrying if you have thick and thin patches.
Step 5 – Use the other half of the cake and create a another layer in the same method used before.
Step 6 – Spoon another layer of ice-cream on to the cake, trying to get a relatively even layer this time.
Step 7 – Cover pan with some baking paper and place in the freezer for 24hrs or until set.
Step 8 – Serve with fresh fruit and enjoy a cake that tastes a whole lot nicer than it did originally.
Notes: If we had, had any chocolate or chocolate sauce in the house I would have drizzled the sauce or molten chocolate between the layers for extra goodness. The idea would also work quite nicely with any cake even if it tasted nice before hand 🙂