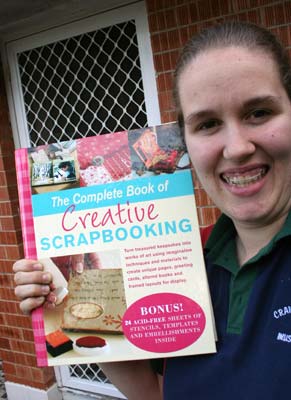 Just over a year ago, I was given the opportunity to work on a book called The Complete Book of Creative Scrapbooking, published by Murdoch Books. In the book other than myself is Helen Williams, Tracy Robinson, Barbara Schipplock, Dawn Stan, Ngaire Bartlam, Lynita China, Abby Hogarth, Jody Dent-Pruks and Mischell Lancett. The book was put together by a fantastic lady who I am glad to have had the pleasure of working with Melody Lord.
This book caused much stress in my life, debating over if the work I had created was good enough, was it creative enough etc. Well today, all that went away!
When I arrived home from uni a courier package was sitting on my desk, I looked over the box trying to find out who it was from as I had not purchased anything recently so was not expecting anything. Well I opened it up and much to my delight, the book was inside!!!! I have just spent the last little while leaving a voice mail for Sean to tell him it arrived, emailing Melody with my praise, pouring over the book. Very Happy!
In the book I contributed five projects, one of Sean playing Cricket, one of my brothers in Iceland (with a photo by Karl), one of a dear friend Beth's Daughter, one of Postcards from Karl and one of a flower 🙂
So Happy! So Happy!