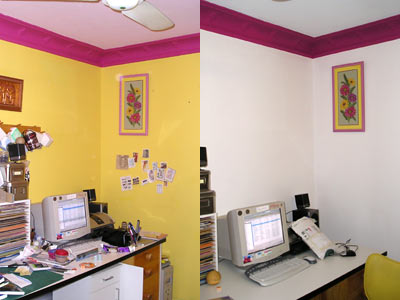 The painting is finished, all that is left now is for the installation of new wardrobe doors and painting a shelf to match the wall. The increase in light in the room is just amazing.
Whilst the yellow was by no means dark in fact it was quite bright, the light that the white reflects is just amazing, there is less shadows, just so much more light.
In addition to the extra light, the white is just so clean and crisp, the walls and ceiling look fresh.
Big fan of the white.
Big, big, big thanks to Sean for helping me out over the four days and providing his tradie knowledge in repairing holes and cracks in my room, also to my dear mother for providing the paint, to my younger brother and father for helping when needed and staying out the way when not needed.