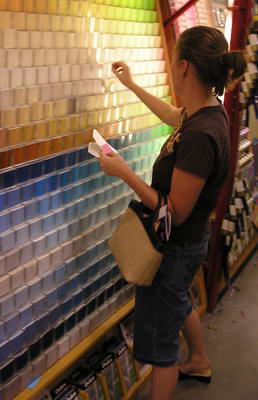 For a couple of months now I have planned the re-painting of my room. Changing it from the current Banana Yellow to a white, mainly to reflect light to my natural light starved room as well as too reduce the colour casts I get in my photographs and to ease colour choices in my scrapbooking. Since Sean and I are undertaking the painting over the Easter 4-day weekend, today we went to Bunnings to hopefully pick up some paint, but only ended up coming home with colour cards.
I had planned to have pure white but Mum and I rationalised that a tinted white would be a better choice.
After comparing way too many "white" choices, I finally chose a colour called Whisper White – quite nice. However, we did not come home with paint due to the lack of customer service we experienced at Bunnings. For close to an hour we compared cards, paint types all whilst never having an assistant comer over and ask if they were able to help. As a retail worker myself, I know how important customer service is. Well Bunnings you just lost my purchases today due to the lack of customer service, I did end up with a nice collection of differing white sample cards but that is all.
I will head out to the local paint store tomorrow to pick up some paint and have a real retail experience with people who are there to serve the customer.