Andrea and I got together tonight for some retail time. Well really time spent socialising at Chermie and not really buying anything.
I am after a pair of black pants. It sounds so simple. Anything but. I want black, 100% cotton or similar, real pockets, nice cut. I tried on pants after pants after pants. There were one pair that were sort of ok, probably about a 7/10 on the like factor. I came home pantless. The problem is that I have a pair of stoney camel Country Road pants that I got off the sale racks at Myer a little while ago. I love them, decent pockets, Italian cotton and most of all a really nice cut. This of course means that any pants I try on are held up against them. Do they have that same feel? Do they fit as well as the Holy Grail pants to? The answer was no, it always seems to be no. I am thinking that perhaps I need to make a trip to a tailor in SE Asia with said pants and ask for X copies in X different fabrics. Moving away from my tale of looking for that perfect pair of black pants.
One of the things Andrea had for me was this CD (click image for the track listing etc).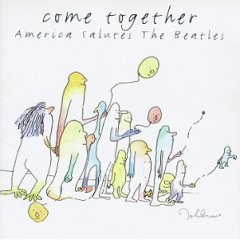 Andie knows that I have a slight thing for covers. I now have 7 or 8 Beatles cover albums. This is a really good album, feels very Sunday arvo BBQ. A more alt, slightly folk, with a hint of Americana style Beatles, it works.
and some photos.
today.
Backlit Leaves, aren't they so pretty?

the day before.
Made in India. My most hippy skirt. I picked up this skirt many trips round the sun ago for a school dance. I never ended up wearing it to the school dance. It has sat at the bottom of my wardrobe all that time, with me not feeling flowers in my hair enough to pull off the skirt. I went to a party the other night and decided to wear it. Now I very much feel flowers in my hair enough to wear it.