I love it everyday – Spaghetti Bolognaise!
Life is an interesting thing. Or perhaps more the internet is an interesting thing or even more precise Facebook. Last Sunday night Mum and I went to see Peter Combe. The very next day I got a message on Facebook saying that Catherine Riddle had added me as a friend.
Catherine and I grew up together. A fair swack of my childhood was spent playing in Catherine's back yard, swimming in the pool, playing dress-ups in her Mum's old ballet costumes and generally just having fun. We went to the same primary school but after her dad spent a year on exchange in England and they went up to Charters Towers to live/teach we pretty much lost contact. We have seen each other a few times over the years but I don't think I have seen Catherine for probably four years now. I nearly fell off my chair when I got the notification on facebook because a few weeks before when I had joined facebook again as it now seemed like all my friends had it now, one of the first people I searched for was Catherine but she wasn't to be found.
This is us when we are young tykes, Catherine and I had just turned 4 ( our birthdays are 10 days apart) and Matthew was/still is my little brother.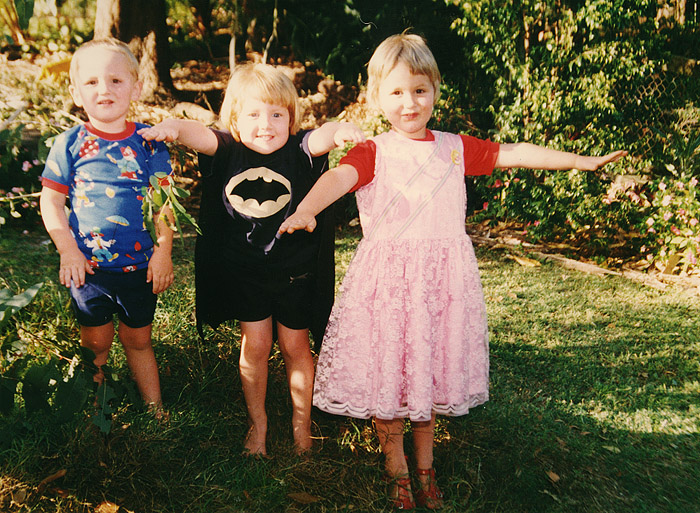 What made it all the more special was that the night before as Mum and I were walking down the steps out of the Zoo after seeing Peter Combe, Mum was commenting on how Margaret (Catherine's mum) had introduced us to Peter Combe as I was mentioning that a lot of my friends had not been exposed to Peter when they were young and that she was going to send Margaret a letter and her Peter Combe ticket.
Peter Combe was a fantastic night. The Zoo was sold out and it was full of newspaper hats and pure glee amongst the punters who had forgotten just how much we had loved Peter Combe as children and that we would still sing those songs word for word. I can't wait for him to come back north again as I would be there in a split second. I have gone to a fair amount of concerts and whilst there was no fancy lights or sound effects, I have to say I think it was the only concert I have been to where every single person there had a huge grin on their face all night long.