I remember the first time I saw a Spencer and Rutherford handbag, Grandmum, Mum and I were in the city David Jones. Grandmum was buying stockings, I think it was even the trip when Grandmum bought Mum her good straw hat. There was a sort of inbuilt fancy shelves in the wall and there was a sign that said Spencer and Rutherford and it was filled with these most gorgeous handbags; lots of beads, lace and fancy fabrics.
Since I have started full time work, I have often looked at the Spencer and Rutherford display in DJs and ummmed and ahhhed about buying a bag but time and time again I just couldn't justify the price. Yesterday when I was flipping through this weeks Brisbane News and saw a little ad, advertising a Spencer and Rutherford clearance sale at the RNA. I ummmed and ahhhed about going but I am so glad I went now! I picked up three beautiful pieces.
I was so taken by this bag – Beatrice but I just couldn't pay $200 for it. It was so so so so pretty. This is the bag that I really ummmed and ahhed about the most. It looked like it would fit my laptop but what if didn't? I rang Mum and got her get my laptop measurements off the website but of course I din't have a tape measure with me. I sized it up with a piece of A4 paper and my drivers licence. Then I spied two laptops at the "cashier's desk" so I asked if I could see if they would fit, they both did and the cashier aka a man who I am pretty sure was Chris Michaelides the business manager of the company said his wife (who if I am right is Kim Michaelides the creative designer) used to use this bag as her laptop bag and she had a macbook. When I got home, I sighed my laptop well and truly fits inside! This bag cost me $99, on the website they are selling it for $171 and I have seen it DJs for round the $250 mark. nice!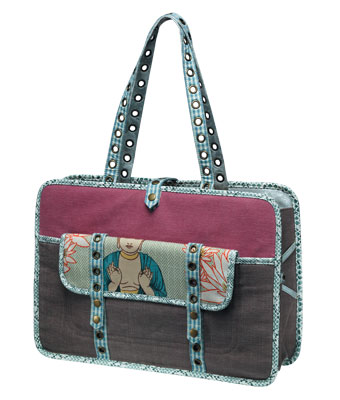 This is the other bag I got. I had been looking at a larger bag of the same fabric in DJs on and off for the past year, so when I saw this bag, I picked it up to my chest and sighed. So gorgeous and so classy yet still cheerful enough for me. I am looking forward to swinging this off my shoulder 🙂 This cost me $79 and in the shops it is round the $220 mark.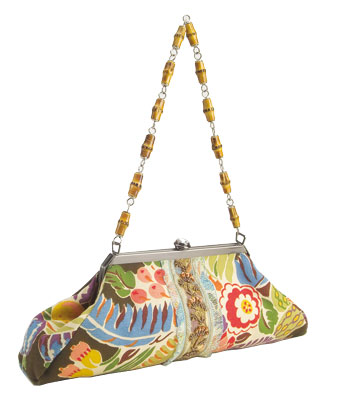 My final purchase was a new wallet. I have been using a gorgeous little coin purse that I got at Fossil a few years ago but wanted something a little more grown up and more than just the single pocket. This is what I picked up $39, though mine is a navy colour not the red in the photo. So pretty! If you click on the picture it will take you to the listing on the S&R website and you can see the Matryoshka doll coin purse that is inside it.